Our Home(s)
We only accept a small number of dogs for boarding at one time. This allows for personalized care and attention and ensures that no one is overwhelmed or overstimulated. Everyone has space, it is a fun yet safe and relaxed atmosphere. 
Most of the time our guests prefer to be wherever we are, however, there are dog doors that provide our guests access in and out at will. We do restrict as needed depending on weather.
S

pacious properties with large fenced yard(s) for us and the dogs. 

Both locations are occupied by adults only. Both with backgrounds in dog training/behavior
No one is ever locked out of our house. Access in or out is always available.
Pet stairs at the couch for small dogs. Larger pups aren't allowed on the couch (Where would WE sit!?)
Variety of comfy and clean dog beds (including a couple of heated ones!)
No-climb 6ft fencing and solid 6ft. fencing
Safe double-gate entrances
Multiple X-large dog doors
Ramp at one dog door for easier access for shorter or arthritic legs
At the end of the day we usually end up bringing extra dog beds into our bedroom to make sure everyone has a comfortable spot. We just need to be careful where we step when getting up for any night time trips to the bathroom! And yes, the small dogs do end up in bed with us:)
Our household environment, playtime and interactions with our guests all encourage good manners and social skills.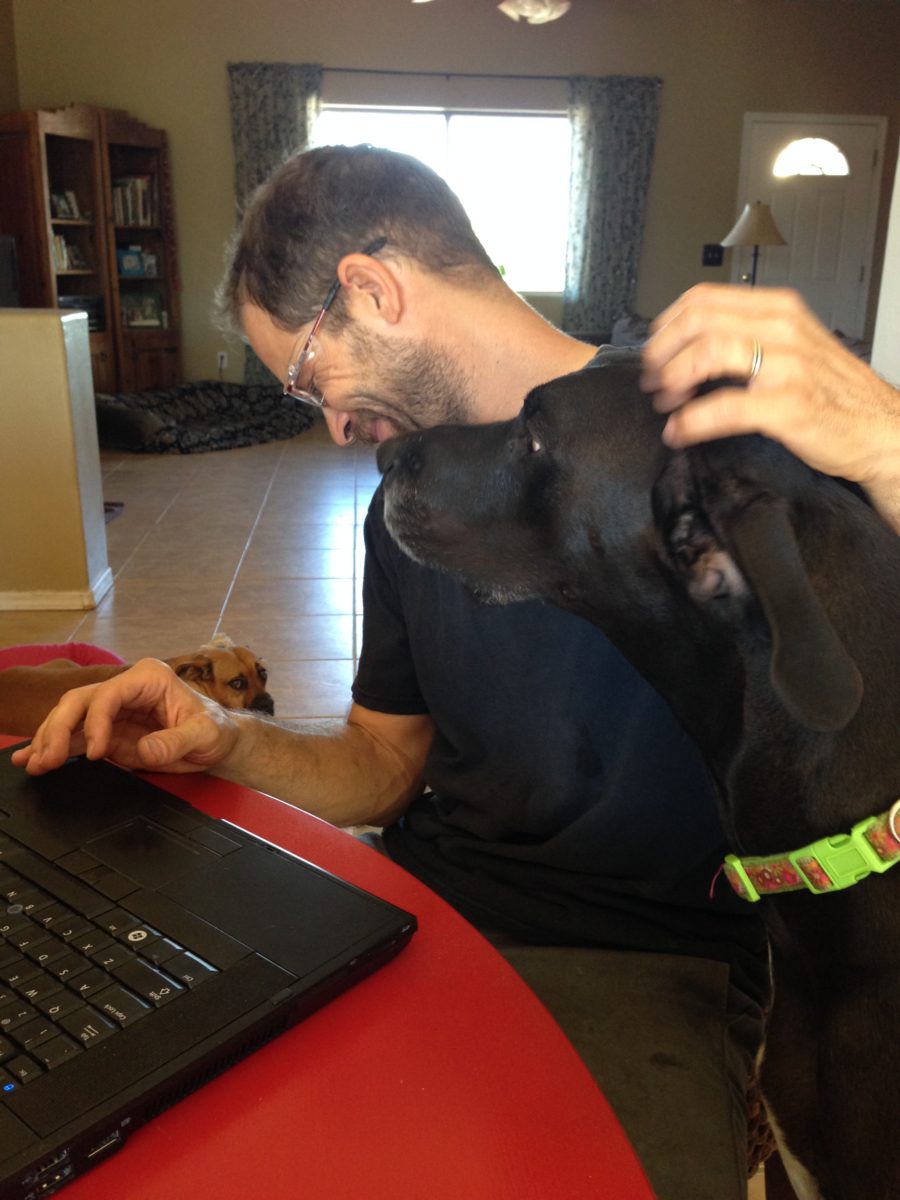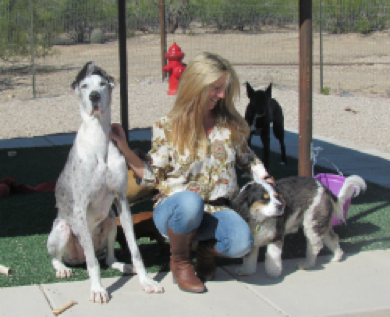 Who is "Jimmydog"?
Sure, I had a dog I loved while growing up, but I always wanted a Great Dane. My cousins had a couple when I was young and I just loved those giant dogs. Once out on my own I found a breeder and a puppy picked me out. Jim became my best friend. I was determined he would be the best dog ever so I educated myself about the world of dog care and training. I have to say, I was lucky! He was a great dog with or without me. He was truly a gift. We went everywhere together. Work, friends houses, parties, events, if I showed up without him everyone would be disappointed and ask that I go get him. He was quite famous in our little town!
I met my husband Steve (Jim approved) and along with his dog Sampson we were a happy family. At age three my friend Jim suddenly developed a clot that moved through his spine and left him paralyzed. The vets had told us that Jim may or may not regain feeling, we had to wait it out and see what happened. We slept on the floor so he could have our bed and not get bed sores.
As luck would have it I had brought home Bob, a siamese kitten, days earlier. The kitten was extremely attracted to this big warm thing that couldn't move. Bob also loved that we were sleeping on the floor. We would be woken up several times a night as he would pounce on our heads!
We became experts at using a catheter and we did leg exercises several times a day to keep Jims' muscles from atrophying. After two weeks he started to regain some feeling and movement. His front end and one hind leg were coming back. He couldn't go to the bathroom on his own and that one rear leg showed no signs of improvement. This was back before alternative medicine was as easy to find as it is now but we found a vet to do acupuncture in NY and we made the drive weekly. It helped but after a while it became clear that we would have to amputate his hind leg. We were sad when we dropped him off for the surgery but when we returned to pick him up we were met by our once again happy and playful buddy! Jim had seemed "OK" but with that dead weight leg gone he was immediately back to his old self. I'll never forget how happy he looked as he dragged that vet tech across the office to us!
As anyone with a handicapped child would do, we cared for Jim for the next five years and he truly had a happy and active life. He had made many friends and they were all there to help out if needed. We put together a party to raise money for vet bills (The Jimmy Fund:) and I was overwhelmed with the generosity of our friends as well as people I didn't even know (they all knew Jim though!) Jim opened my eyes to how special and wonderful dogs are. He taught me about training, behavior, compassion and owner responsibility.
I have worked with dogs for over 13 years now, both as a trainer and behaviorist and as a Pet CPR and First Aid Instructor. In 2006 Camp Jimmydog was born.
It probably comes as no surprise that my other passion is health. As a Functional Health and Nutrition Coach I get great joy from not only helping people improve their health but also helping their dogs.
Have you had a "Jimmydog" in you're life? Many of our guests are their owners "Jimmydogs". That's just one more reason for us to love them too:)
I'd love to hear about your "Jimmydog". Tell me about him or her in the comments below!